(Editor's note: This post on Axelera AI is part of our Tech Tuesday series. We cover Europe's startup scene because so many of our highly skilled internationals work in tech.)
With more than 36 million euros in funding, ambitious expansion plans and a team full of PhDs, Axelera AI is one of High Tech Campus Eindhoven's hottest startups. So, what brought them to HTCE when they could have gone anywhere from Amsterdam, where they began, to Zurich?
Eindhoven's rich talent base.
Most countries in Europe – indeed, in the world – can't find enough talent to fuel their tech sectors whether we're talking about engineers, scientists or managers. Take that a step further and imagine you're at High Tech Campus Eindhoven building an advanced artificial intelligence startup with an exceptionally ambitious and aggressive expansion plan. Now, to complicate the scenario, you're creating both software and hardware, specifically an AI chip that's both blazingly fast and far more energy efficient than conventional computer chips.
The goal is to democratize artificial intelligence, taking it to the masses of small-to-medium-sized businesses rather than to just the global giants able to afford AI now. Or as Fabrizio Del Maffeo, co-founder and CEO of Axelera AI, puts it, "really unleash a new wave of disruption in many markets. Because you can enable plenty of scenarios that today are not there because of limitation in the hardware."
To understand how ambitious this is, Del Maffeo isn't talking about merely upgrading existing PCs and laptops. He predicts there's an entirely new generation of computers coming, computers with advanced architecture that can take unstructured data image input from cameras or any other sensors and use artificial intelligence to move from standard computing to data-driven computing.
That means creating an architecture which can support, feeding data to artificial neural networks, vision and natural language processing in computers capable of solving vast amounts of problems, he said.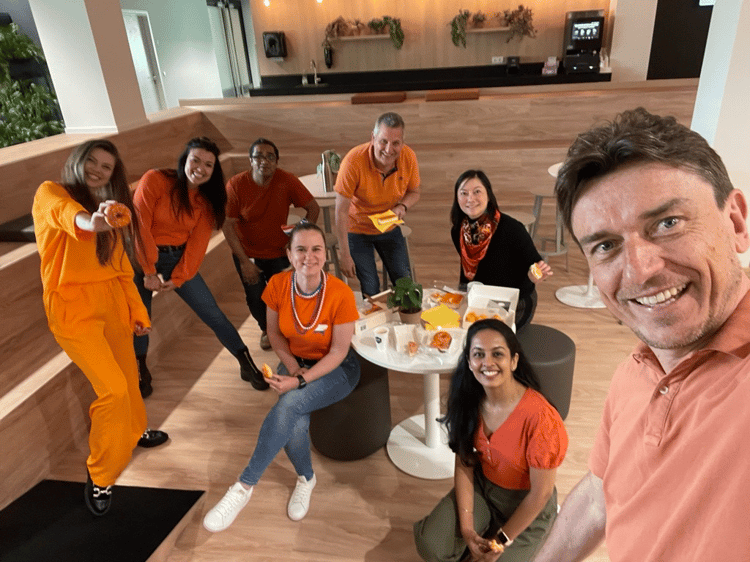 Axelera has raised 39 million
As this new model prevails, AI chips will be the largest components inside CPUs and graphic accelerators will claim more space in computers, del Maffeo predicts. Investors are buying into his vision, with Axelera closing a $27 million Series A investment on 25 October, a funding round led by Innovation Industries, based on HTC. This follows an initial $12 million raise in 2021.
Now what? Time to build the beast.
If you're Del Maffeo, you start thinking about where you're going to get sufficient talent who shares your long-term vision of building a global company. He wants Axelera to endure, which calls for a completely different team culture.
"Axelera isn't just designing chips," he says. "We're building a deeptech company, which is substantially different."
From the first days, his growth plan has been beyond ambitious. When Del Maffeo, a native of Italy, and co-founder Evangelos Eleftheriou, who's Greek, started in July of 2021, they had a team of 18 people, mostly PhDs. By the end of 2021, the team had expanded to 30, then grew to 55 in June. As of October, they had 82 on a trajectory to reach as many as 98 by the end of 2022. Through July 2023, del Maffeo foresees hiring at least five new employees per month, reaching 200 people by the end of 2023, then 300 by the end of 2024.
"Then we'll accelerate," he said. "There is no plan to stop hiring."
Next stops include the U.S. and Taiwan
While Axelera will continue investing in research and development in the EU, UK and Switzerland, plans include expanding quickly into the U.S. and Taiwan.
Since the beginning of the project, Axelera has looked at all of Europe as its talent pool because they're competing with tech giants such as Nvidia and Intel in the race to raise capital and to deliver cutting edge technology, Del Maffeo said.
Axelera chose HTC for its headquarters because it's the only research campus with an AI Innovation Center and because of its proximity to the semiconductor industry as well as to research centers such as imec in Leuven, Belgium.
"It's also good for finding new talents: some of our first team members of Axelera AI come from Intel who has an R&D center on the Campus."
He plans to further leverage his advantages, including Axelera's location in the AI Innovation Center, to stand out from other European tech companies. Europe has great talents but unfortunately many of them move to the U.S. because of the lack of ambitions of most of the European companies as well as risk aversion, he said.
His projects, his ambitions and his all-star talent will attract more European talent, he predicted: "Real talents love to work with other talents," del Maffeo said.
There are clear benefits to being in Brainport, home to Philips and spin-offs NXP and ASML, including a density of talented engineers. "But it's not easy to convince great engineers working for a large corporation to jump into a startup," he adds. So, Axelera hires expats willing to come to Europe from India.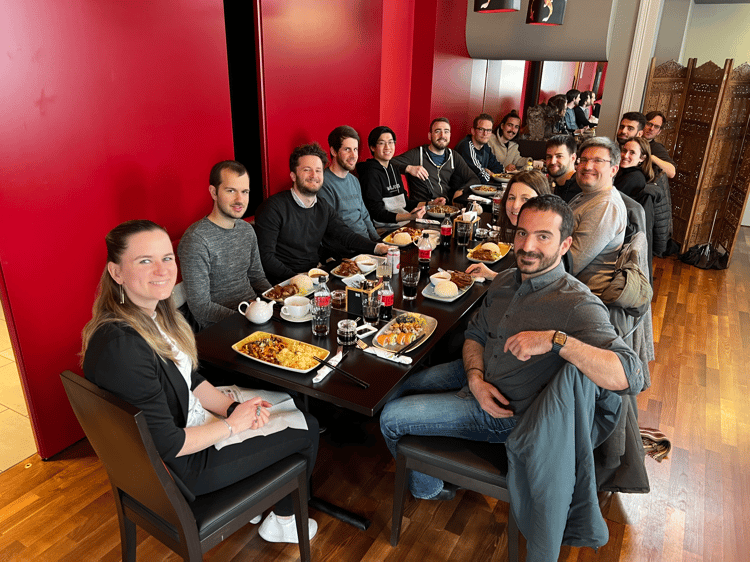 A workforce representing 14 nationalities
Three years since Fabrizio started the project inside Amsterdam's Bitfury incubator and just 15 months after the company was funded, Axelera already is seriously international, with offices in Leuven, Eindhoven and Milan as well as its headquarters in HTC 5. The startup has employees in 11 different countries representing 14 nationalities including Dutch, Indian, Bulgarian, Romanian, Austrian, German, French, Spanish, Italian, Irish, British, Belgian and Greek.
At this point, recruitment is mainly via in-house networks. Ninety percent of the people who've come on board are connected with someone who was already part of Axelera, and only 10 percent were job hunters.
"When you have so many talents on board ­– and it's really not my opinion, but the opinion for the people that are joining – you attract even more talent," del Maffeo says. Talent also is attracted to inviting workplaces. With its nature, restaurants, workout and sports facilities and other amenities, HTC is part of Axelera's recruitment strategy, he adds.
"It's a very international environment with people from all around the world, and this helps new expats who join us feel more comfortable," del Maffeo said. He noted the Campus itself is a self-contained ecosystem with international deep tech corporations, startups, accelerators and venture capital firms.
The campus also gives Axelera increased visibility through various events organized at the AI Innovation Center and at the HTC Conference Center.
Axelera is so hot they can be really picky about candidates. That begins with what Del Maffeo terms "a very strict recruitment process." An engineering candidate has to pass through seven interviews including three technical tests.
"We have a very, very strong team," he says. "I always say to our team that they never would have recruited me because I'm not that good. I started it … otherwise I wouldn't be here."
So far, the lure of working with "A" players on the frontier of a new technology is catnip to talent. One of the biggest gets for Axelera is a new, unnamed employee from Graphcore, according to Del Maffeo.
"I asked him why? I said, 'You are in a company which is raising $700 million on a $2.7 billion valuation!' And he said, 'Well, I will say I was impressed about the people in your company, the clarity of the vision. What you want to achieve. The way you are together.' And by that he decided to make a difference to join us.
"It's really the vision."
IPO in the U.S.
But there's more than that. There is a team that can sustain the vision and, in the end, transform and execute the plan to make it happen. "Because it's easy to have a great idea but the problem is execution to make it happen, right?"
Del Maffeo is so confident, he's going all in, bringing in American investors more comfortable with risk than Europeans while pushing into the world's largest semiconductor market. The new chairman is Jonathan Ballon, a former Intel vice president and general manager of Edge AI for the semiconductor giant, on the way to an IPO on a U.S. exchange.
"IPO must be a must-happen in the United States, and the company has to expand in that direction," Del Maffeo said. "We are doing our best to fulfill market expectation, customer expectation and to make an impact. The real inflection point for us where this company can really shift to the next level will happen in coming 12 to 18 months. That's when we are going to hit the mass market giving free access to our platform to all the developers around the world.
"And, yeah, October of next year should be really the moment, I think."
Co-CEO of Dispatches Europe. A former military reporter, I'm a serial expat who has lived in France, Turkey, Germany and the Netherlands.