(Editor's note: This list of the 25 tech companies on High Tech Campus Eindhoven is part of Dispatches' Tech Tuesdays series. This list was done in partnership with the campus.)
We proclaim 2022 The Year of Innovation. In this "End of the Year" list we highlight 25 Campus high-tech, innovative companies, including multi-nationals, startups, scale-ups and everything in-between. These are companies of the future, and they're all at High Tech Campus Eindhoven.
Disclaimer: With 280-plus inspiring companies on Campus, a "End of the Year" list is never complete. These 25 companies participated High Tech Next, HTC's signature conference of the year, showcasing their latest technologies.
Healthcare
STENTiT
STENTiT makes an endovascular stint that includes a regenerative element that helps actually heal the artery. STENTiT CEO Bart Sanders said his startup's technology, developed at the Eindhoven University of Technology, is unique in that – in addition to opening the clogged passageways – has regenerative qualities that are unique, healing the artery without invasive surgery.
Teledyne DALSA
Teledyne DALSA is a global company designing and manufacturing specialized electronic imaging components as well as specialized semiconductor fabrication. The company develops and produces sensors and detectors for digital imaging that are used in a wide variety of applications. Its imaging sensors, digital cameras and image processing software are used for everything from aerial photogrammetry to medical radiography.
Philips
Founded in Eindhoven in 1891, Philips created some of the most popular consumer products in history, from cassette tapes and CDs to plasma TVs, at what is now High Tech Campus Eindhoven. Today, Philips has transformed into a global leader in health technology, improving health and well-being through meaningful innovation. Thousands of employees and more than one hundred years in operation, they still have one enduring belief: there's always a way to make life better. And they do that every day from the same R&D location they started from, High Tech Campus Eindhoven.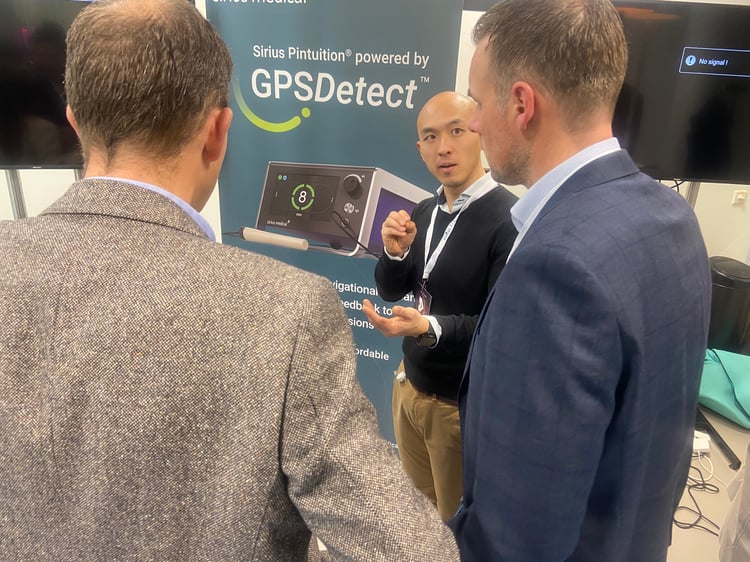 Sirius Medical
Sirius Medical has technology that provides real-time, directional guidance using audio and visual feedback for increased precision in locating tumors, said Marketing Manager Benjamin Tchang. Sirius' Pintuition Seed is a tiny permanent magnetic seed that marks the tumor and helps with surgical removal from any direction.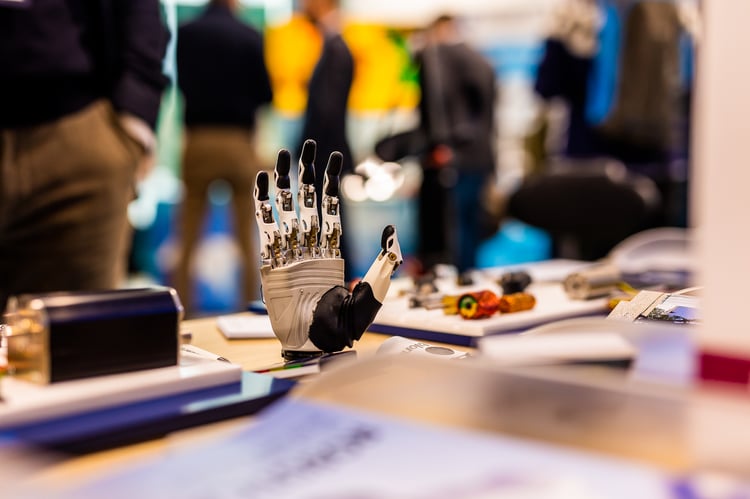 Faulhaber
Faulhaber is an innovator in miniature and micro drive systems. They design and manufacture drive solutions for numerous sectors, such as robotics, aerospace, medicine and lab technology. The BeBionic hand allows quick, precise and firm grip for people with handicaps to perform everyday tasks with much greater ease. The Gowing arm support system aids those with reduced arm strength, allowing them more freedom of movement.
Sparckel
Sparckel makes a new lamp that provides more than light. In collaboration with Philips, TU/e and other entities, Sparckel technology fights the decrease in daylight we experience indoors in the office, and at home in the winter. The lighting products improve mood and attention span by harnessing the power of natural sunlight.
Emerging (Digital) Tech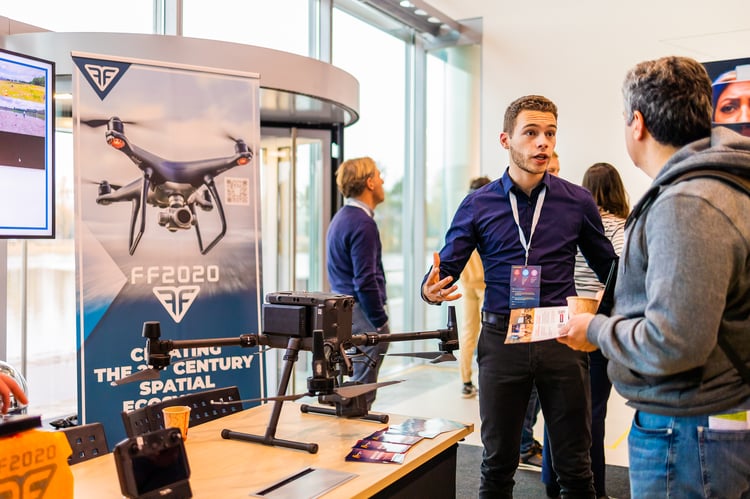 Flying Forward 2020
Flying Forward 2020 is not a tech company per se, but it is an ecosystem builder. FF2020 is developing and testing drones as part of a new Urban Air Mobility ecosystem which will put autonomous drones to work in urban environments. Fun fact: High Tech Campus Eindhoven serves as Flying Forward's first living lab for testing autonomous drones. The three-year research and development project is funded by the European Union.
Datacation
Datacation is a startup consulting firm working on applying machine learning and artificial intelligence to clients' businesses to make them more efficient. Projects include developing an app to detect pancreatic cancer at an earlier stage and in a more accurate way using computer vision on CT Scans. Other projects include generating the essential text data from millions of emails, building recommendation systems for food delivery platforms and fan shops, advising on a data strategy plan and visualizing data in dashboards for multiple applications.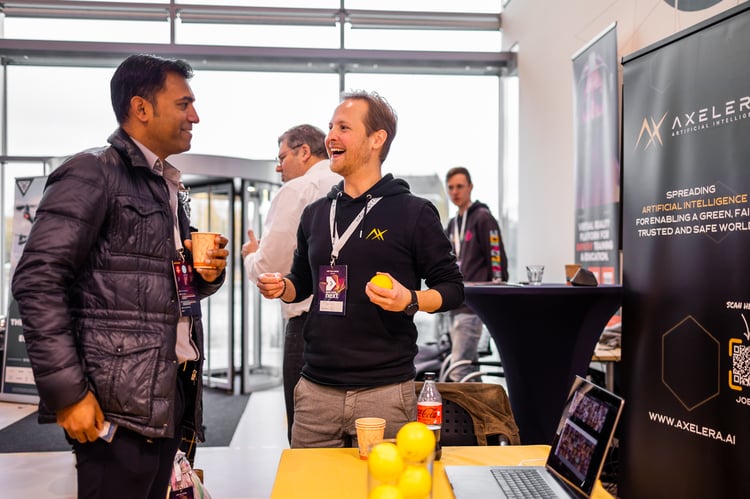 Axelera AI
Axelera AI is developing hardware/software solutions for AI inference at the Edge, enabling computer vision applications to become more accessible, powerful and user friendly. Axelera's AI inference technology can "learn," in the sense it can adjust outcomes using new data. Axelera is unique in that it is both a software and hardware company, announcing the release of its MetisAI Platform, encompassing the Metis AI Processing Unit chip and the Voyager SDK software stack, said Merlijn Linschooten, marketing and communications manager. Axelera has raised $27 million in capital as of late 2022.
Enliven
Enliven is creating virtual reality technology to address issues such as abuse and addiction. The Enliven simulations are realistic even to the point that adults in the abuse simulations are how they would appear to a child, said founder Alex Tavassoli. Enliven is currently in the LUMO Labs venture building program on HTCE.
chunkx
Founded in 2018 by Florian Stieler, chunkx is an AI-enhanced microlearning application that creates a curated and personalized learning experience by selecting content adaptively. Chunkx had developed an adaptive learning app using algorithms and AI to create interactive, personalized micro-learning lessons. Their AI-based apps and services allow users to practice continuous micro-learning for more sustainable knowledge acquisition.
Photonics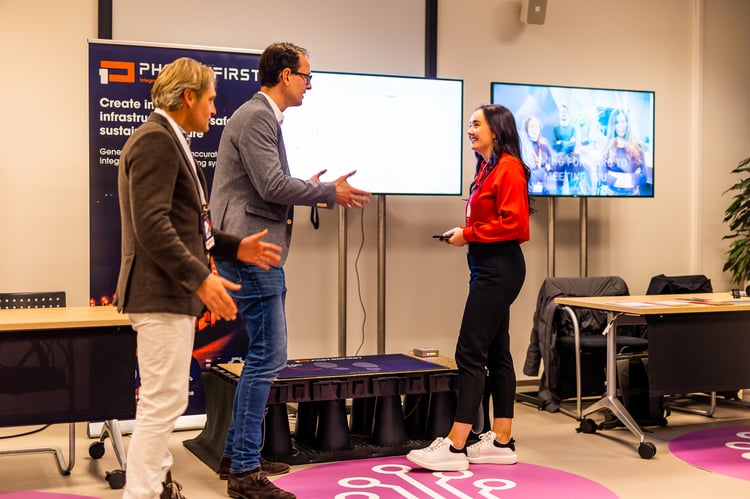 SMART Photonics
SMART Photonics is a foundry designing and making specialized integrated photonic chips for clients in healthcare, telecommunications and other industries.
PhotonFirst
PhotonFirst's slogan is, "We measure the world." Their photonic sensors measure everything from aerospace fuel system temperature to carbon fiber shape changes, EV battery temperature, infrastructure strain measurement and acoustic monitoring in medical systems. Earlier this year, American conglomerate GE and PhotonFirst entered into a strategic technology collaboration to develop fiber optic sensing for the monitoring of next-generation electrical grid infrastructure.
PhotonDelta
PhotonDelta is a cross-border ecosystem of photonic chip technology organizations. Faster, lighter, more durable and, at the end of the day, much cheaper, the benefits of photonic circuits are considerable for a wide range of applications. And the Netherlands plays an important role globally in the development and application of this key technology. In April 2022, PhotonDelta landed 1.1 billion euros in public and private investment to transform the Netherlands into the leader of next generation semiconductors.
Aircision
Aircision is a leader in developing ultra-high-capacity optical wireless communication solutions for mobile backhaul, mobile broadband and private networks. Aircision's most recent tests show higher data transmission links than any competitor, said CFO and co-founder Betsy Lindsey. Aircision has tested with some of the world's largest telecommunications companies, with the goal of providing the technology to provide digital communications to underserved populations. "We were recently awarded TOP 5 Startup at the GSMA's 2023 Mobile World Congress, and Aircision will be competing in February in Barcelona at the 4YFN event," Lindsey said.
Sustainability
Workplace Vitality Hub
Workplace Vitality Hub is a new living lab at HTCE. In this unique collaboration with business partners Fontys, imec, TNO, TU/e and Twice, they develop innovative and effective solutions for a vital working environment. Here they research and develop new technologies and applications focused on the needs of working people, striving to make them – and the buildings they work in – more vital.
Solliance Solar Research
Solliance is a network of tech talents developing thin-film solar technology. Solliance cells are much thinner and more flexible than conventional solar cells, giving them the ability to take on virtually any shape.
Demcon
Demcon develops smart applications for healthcare, safety, water, energy, production and communication, to name just a few. Demcon meets all the needs of their global customers, from initial idea and concept, to prototyping, industrialization and production. Demcon develops its own products as well and invests in startups and established companies through their innovation program, focusing on projects that have a positive impact on people and the environment.
inPhocal
inPhocal uses proprietary laser technology for advanced industrial printing. Think nearly instant printing on curved surfaces including bottles and cans. inPhocal now has its first product, which they're shipping to clients for field testing, said Robert van Tankeren, CEO. inPhocal closed its seed round in September; had its first sales in November; expanded its team to 12 people from six and received a 2.5 million euro EIC subsidy in December. "Our production is ready to roll out certified systems," he said.
Signify
Signify is one of the Big Four global companies in Eindhoven along with ASML, NXP and VDL. Signify, formerly Philips Lighting, makes LED lighting for multiple industries, including agriculture, office interiors, manufacturing facilities and others. CEO Eric Rondolat said Signify has moved past Horizon One (older products) and Horizon Two (current technology) to Horizon Three, with the company spending heavily on future technologies. "From the era of conventional (connectivity) to an era of LED connectivity and new technology in Horizon Three, innovation is a big part of our story," Rondolat said. Watch his keynote here.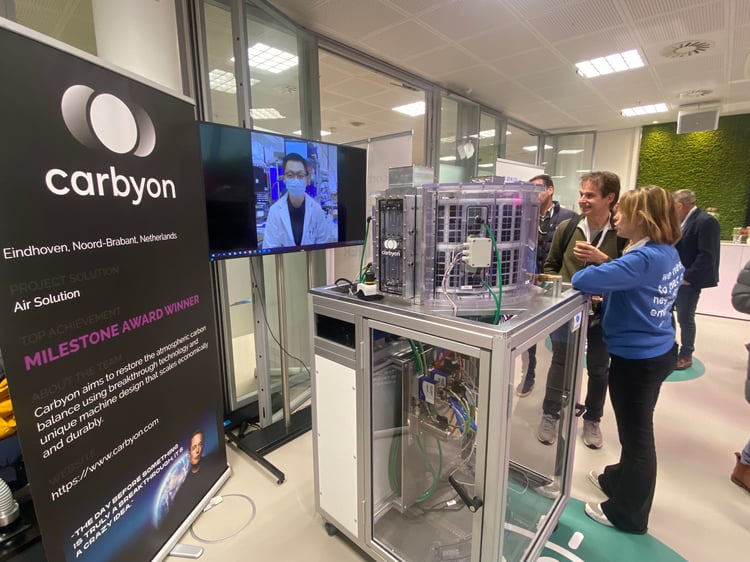 Carbyon
Carbyon has developed technology that removes CO2 from the atmosphere. This spinout from TNO received millions in funding during 2022, including $1 million from Elon Musk's XPRIZE carbon removal competition. "We're finalizing our protype, which will debut at the beginning of 2023," said COO Marco Arts. "At next year's High Tech Next, we'll be able to show it."
ESTI (Ecosystem Thinking Institute)
The Ecosystem Thinking Institute is a non-profit organization which combines the Open Innovation Academy and the House of Open Innovation. They start with a problem-driven approach and bring together organizations dealing with the same problem. ESTI does extensive research and develop a landscape of the entire ecosystem, using proven methods and tools to build, guide and measure ecosystems in smart living, sustainability and social equality. All under the inspiring leadership of Margot Nijkamp, one of the first Campus residents.
Mobility
TomTom
TomTom specializes in navigation technology and is a pioneer in personal navigation. Now, TomTom executives are building the smartest, most useful map on the planet. TomTom developed technology that's the future of in-vehicle digital cockpits. Infotainment and driving assistance are delivered to the driver in a safe and rich platform, which can be easily customized to fit car brands. Their new mapping technology make certain guidance and assistance are visualized precisely and clearly.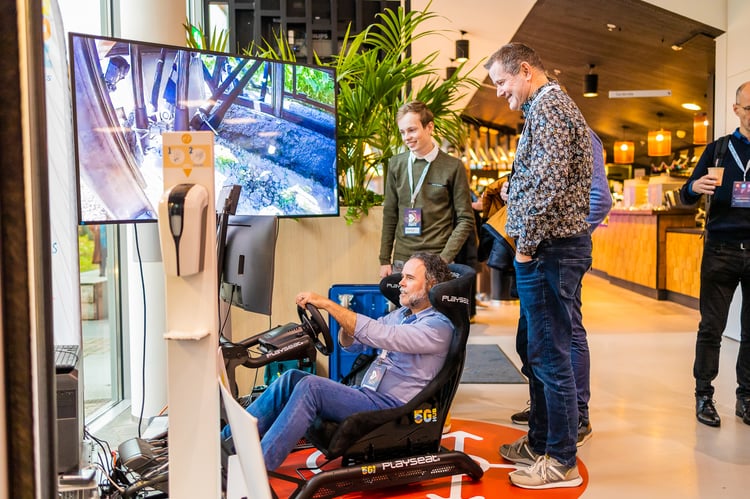 The 5G Hub
The 5G Hub at HTCE is a lab for developing the latest in 5G telecommunications technology in partnership with Ericsson and VodafoneZiggo. The 5G Hub partners and companies (including startups) focus on four "futures," including the Future of Health, the Future of Industry, the Future of Entertainment and the Future of Talent. Hub residents use 5G technologies and infrastructure, where they have space, time, feedback and guidance to develop their innovative ideas into business applications.
NXP
NXP is one of the world's dominant semiconductor companies, making specialized chips for several industries, most notably these days for embedded technology in the auto industry. NXP chips are also used in Apple iPhones and they're working with the American company to develop its electric car.