(Editor's note: This post first appeared on the High Tech Campus Eindhoven website. It's reposted here with the permission of campus executives as part of our Tech Tuesday series. Dispatches Europe tracks the tech scene – startups, scale-ups and mature companies – in Eindhoven because so many of our highly skilled internationals are engineers, physicists and developers.)
For the second consecutive year, the High Tech Campus team has compiled a list of Campus companies that Eindhoven, the Netherlands and the world will hear more about in 2022. This year, we're focusing on companies created in High Tech Campus' startup ecosystem, or that landed on the Campus during 2021.
The companies are listed in random order.
No. 1 – Keiron Printing Technologies
HTC Building 29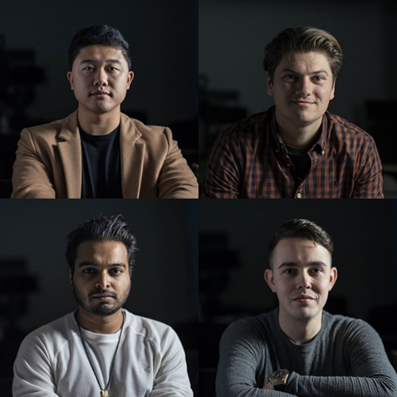 Eindhoven natives and Keiron co-founders Jimmy Sy-A-Chin and Marco van Hoorn have been friends since their second year of high school and partners in Keiron for more than two years. At HighTechXL, they've developed a maskless digital printing technology that allows clients printing electronic circuits to make on-the-fly changes to designs. Kerion's equipment uses lasers to rapidly print various metals including platinum, copper, silver and gold on different kinds of surfaces and materials.

Since they entered HighTechXL in 2020, the team has expanded to 10 people from the two founders. Jimmy and Marco say to keep this in mind: The average age of their team is under 30, while they're shaking up a very "stiff and traditional industry," as Marco puts it.
"We are working together more closely with local powerhouses to develop the next tool that's on our roadmap already and started the design phase of it, and we closed our initial investment round with a surplus," he said. "That by itself is an achievement we are very proud of because we are showing it doesn't take 30-plus years of experience as a CEO in a multinational corporate to start and build a venture that can seriously take up and compete with what's out there. Your drive to thrive is the only limiting factor to success."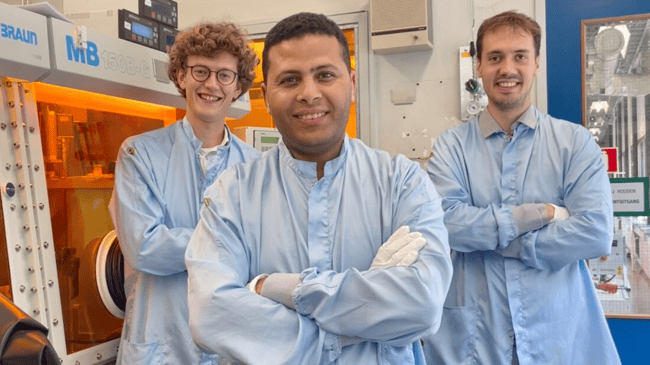 No. 2 – LionVolt
HTC Building 31
LionVolt, which started at TNO Holst Centre on High Tech Campus Eindhoven, just raised 4 million euros from Dutch VC Innovation Industries as well as from BOM, the regional economic development agency.

LionVolt comes out of seven years of battery design R&D at TNO. The goal is to develop a 3-D solid-state lithium-ion battery that is more efficient and sustainable than anything currently on the market. These batteries will "transform the energy sector in terms of safety, energy density and performance," as co-founder Sandeep Unnikrishnan puts it. Unnikrishnan has both a business background and an engineering background, so this is a company you'll be hearing a lot more about as the world transitions to electric vehicles.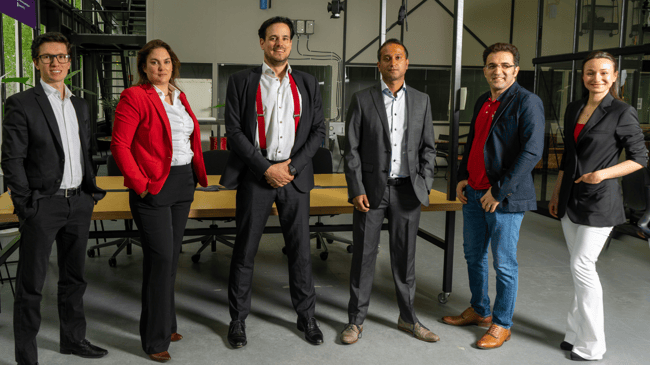 No. 3 – inPhocal
HTC Building 27
Another HighTechXL alumnus, inPhocal has designed its proprietary laser-based device to be flexible enough for application in various industries including laser marking and wafer slicing. This ambitious startup already has traction in its primary focus industry, laser marking.

After developing their MVP in pilot projects during 2021, "we want to have 50 of our proprietary marking systems installed in 2022," said CEO Robert van Tankeren. The team is currently negotiating with potential launching clients in the soft drink market and a major Dutch brewery, van Tankeren said. Potential foundational customers include "some of the biggest players in sodas and breweries, both national and international," he added.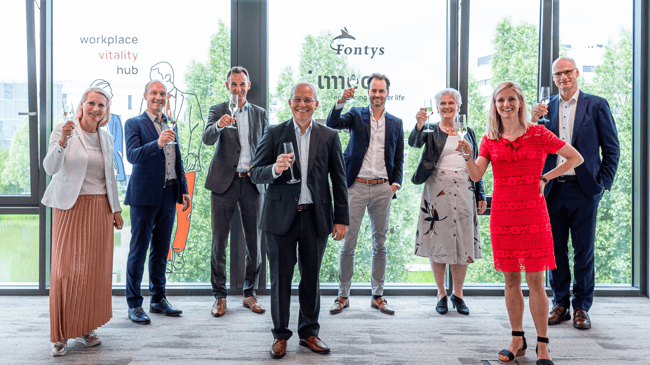 No. 4 – Workplace Vitality Hub
HTC Building 85
Founding partners Fontys, imec, TNO, TU/e, HTCE and Twice have set up the Workplace Vitality Hub. The hub is located in the (smart office) building at High Tech Campus 85. Here the founders combine their extensive knowledge and experience – together with partners from the business world – to arrive at concrete, innovative and effective solutions for a vital working environment.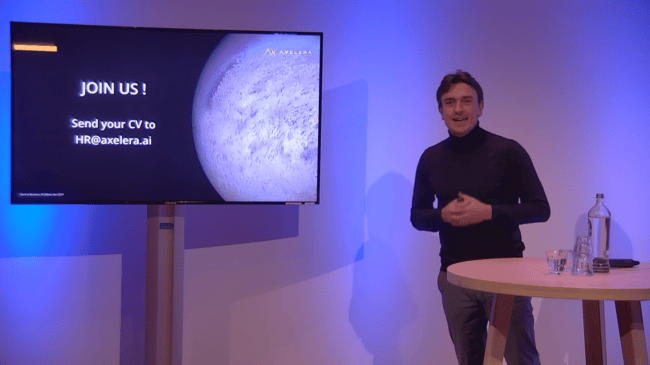 No. 5 – Axelera AI
HTC Building 5
Axelera is a new arrival at HTCE's AI Innovation Center. Its focus is AI vision at the edge (the servers closest to the data source) for B2B, said co-founder Fabrizio Del Maffeo. His Axelera AI team has created affordable AI hardware and software packages that can be integrated quickly and easily into clients' existing tech stacks. It's compatible with drones, robotics and multiple devices for field deployment.

Axelera's goal is revolutionary – democratizing AI by giving developers a tech solution they can integrate without changing software stacks and redesigning everything from scratch. Axelera AI started an investment round in February on the way to starting up but experienced some resistance from potential investors. "We didn't give up, we NEVER give up, and eventually we convinced them that we could make it happen," Del Maffeo said.

In July Axelera AI got the deal done, raising 10 million euros, far beyond the 6 million euros they'd initially sought, one of the largest seeds in AI worldwide. "From that moment we accelerated … or better … axelerated," he said. In just five months, Del Maffeo and his team created a memory computing chip, developed a first software stack, opened offices in four countries, hired 40 people (more than half of them PhDs from top European Universities) "with more to come," he said. "Twenty twenty-two will be our year, the year where we are going to unveil our product line, our technology, our partnerships."
"We will continue our expansion with the target to have onboard by next December more than 100 talented people, making Axelera AI one of the fastest AI startups in Europe and worldwide."
No. 6 – Skills Intelligence
HTC Building 27
Skills Intelligence is another recent arrival, coming to Building 27 on 1 September 2021. Founder Niels Dammers has created software to document and measure individual athletic performance sport. Dammers was inspired by his own experiences as a tennis player. When he couldn't find any products that gave him the data he sought, "I said, 'Alright, I'm going to build my own platform.' "

Which is now Skills Intelligence. More accurately, Skills Intelligence 2.0, with Dammers tweaking the software, which can quantify everything from an athlete's quickness to their mental acuity. Athletic development is a long-term process, he pointed out. "You need a lot of data through all the phases. The magic takes several versions before you know what you really need to know." Skills Intelligence is now also focusing on education and business because – as with sports – in those areas it's also all about the development of skills.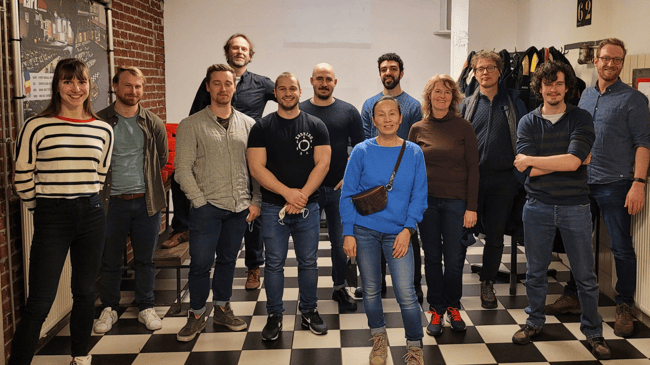 No. 7 – Cboost
HTC Building 5
Cboost is an engineering firm specialized in robotics and artificial intelligence. A combination of young talent and experienced professionals provide engineering for mechatronics and software development and provides engineering consulting.
No. 8 – Videology Imaging Solutions
HTC Building 5
After 25 years in Uden, Netherlands, Videology Imaging moved to High Tech Campus Eindhoven in November 2021. Videology is an industrial camera maker supplying the medical, industrial, government security sectors and other equipment manufacturers. In addition to HTCE, VIS has operations across the globe, including offices in Rhode Island, California and New York.

Moving to High Tech Campus Eindhoven gives Videology the opportunity to work closely with experienced companies as well as young and dynamic development companies, said CEO Carol Ethier. "We expect to expand our developments by partnering with the newest technologies. Videology will be based in HTC5, which is also the home base of the AI development center of the High Tech Campus. We couldn't get any closer! This is the place to be." New Jersey-based inTest Videology Corporation acquired Videology in December 2021.
No. 9 – Voltgoed
HTC Building 5
Voltgoed is a startup with three students from the Technical University of Eindhoven. The team is developing a smart box for home heat pumps to make more flexible use of green power. There are more wind farms and solar panels in use everywhere in the Netherlands and Europe as a whole. So many the power grid can't cope with the supply.

So, cofounders Horst Fietje, Stan Hoppenreijs and Jasper Verhoeve came up with technology that optimizes homeowners' use of heat pumps. When solar and wind energy peak, the device activates the heat pump to make optimal use of these clean energy sources. "This way, we prevent surpluses of sustainable energy from being lost. And all this without you noticing a thing."

That Voltgoed technology has been integrated into homes in the Eindhoven region to capture data about energy use. Their device is a mini-computer with a communication system that is also connected to the Internet. "We can filter out from that data when the heat pump is switched on," Horst Fietje said. "Then we can see if we can regulate it more intelligently. We can also see how much that more efficient use will yield." Predictive maintenance is also possible thanks to the link with the Internet.
HTC Building 41
This new arrival to High Tech Campus Eindhoven from Belgium is reinventing biking with the POWERSHIFT device. POWERSHIFT technology eliminates the conventional front derailleur in favor of wireless shifting technology. A two-speed hub allows riders to change gears instantaneously, under full load and with uncompromised ratio coverage and gear steps.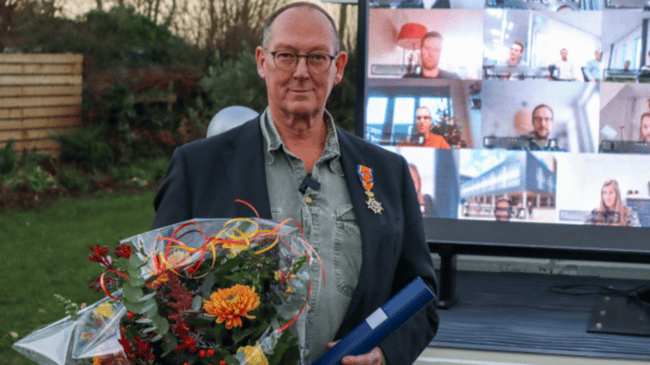 No. 11 – PhotonFirst
HTC Building 5
A pioneering company in the deep-tech area of integrated photonics sensing systems, PhotonFirst uses photonics to make ultra-sensitive sensors for aerospace, automotive and other sectors. Their tagline is, "We measure the world." In late 2021, the company raised an 11 million euro Series A round on the way to an initial public offering projected for 2025.

The Dutch government recently honored founder and CTO Pim Kat, above, for his years of work in advancing integrated photonics sensing systems.
No. 12 – Bright Cape
HTC Building 31
Bright Cape is a data analytics firm that guides companies and institutions though their digitization challenges by building and implementing scalable, sustainable data science solutions. Team members have experience in analytics and applied data science, data-driven experience design and process mining.

Bright Cape stands out because they're ready to work on just about anything from helping clients go from idea to a digital product to streamlining existing operations on the way to increasing revenue. Clients include some of the biggest names in the Eindhoven corporate world including ASML, Philips, ABN AMRO and E.ON.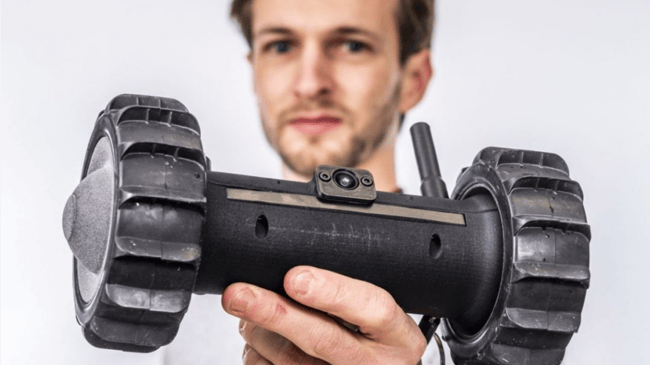 No. 13 – Sita Robotics
HTC Building 96
This is one of the more tantalizing concepts coming out of Eindhoven recently. Technical University of Delft graduate Danny Hameeteman, above, and TU/e students founded Sita Robotics on the way to developing SPEAR, a throwable surveillance robot designed specifically for the Dutch military. Sita works on campus in collaboration with TMC, the Eindhoven-based engineering and tech consultancy.

Sita Robotics handed over 10 SPEAR prototypes to the Ministry of Defense in December 2020, and the testing and evaluation phase was a great success, says co-founder Hameeteman. In addition to the armed forces, the National Police Corps has shown interest and is currently piloting these systems in multiple environments, Hameeteman added.

Sita Robotics also participated in the first 5G Hub Innovation Challenge, resulting in the start of developing a first-responder security robot together with TMC and High Tech Campus, focusing on businesses requiring responsive alarm verification. "In 2022, Sita Robotics hopes to be able to stand on its own feet but still work closely together with TMC … building our dream of delivering an easy and accessible information network," Hameeteman said. That network will deliver lifesaving information, "available for everyone, in every situation," he added.
You can see the list of 2021 HTCE breakout companies here.
See Dispatches' archives here for more on Eindhoven's innovation ecosystem.
Co-CEO of Dispatches Europe. A former military reporter, I'm a serial expat who has lived in France, Turkey, Germany and the Netherlands.