(Editor's note: This Eindhoven Business Briefing on AI and Rabobank's innovation loan is part of our Tech Tuesdays series. Dispatches covers tech because so many of our highly skilled internationals are engineers, developers and entrepreneurs.)
If the ongoing SVB banking crisis shows us one thing, it's the importance ecosystems having access to capital and banking services from a strong institution. We're devoting the majority of this Eindhoven Business Briefing to Rabobank's Rabo Innovation Loan. Fitch Ratings has affirmed A credit ratings for Rabobank. A version of this post appeared on the High Tech Campus Eindhoven website.
You can have the best engineers and managers building the best products, but that won't guarantee a healthy tech ecosystem. Nothing happens without capital.
Of course, there should be early risk capital available. But the Netherlands is unusual in that a bank is willing to come in early with seed loans, functioning almost as an angel investor.
With its Rabo Innovation Loan, Utrecht-based Rabobank is the rare bank anywhere that will lend to startups at reasonable rates and terms and without your having to put your house up for collateral. We're talking substantial loans … from 25,000 euros to a maximum of 150,000 euros.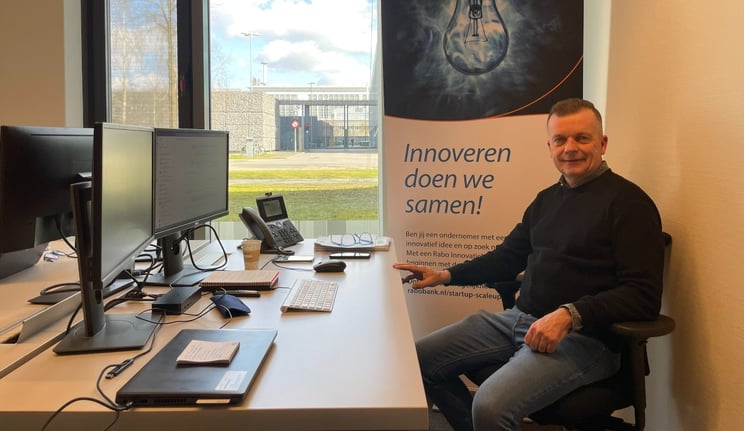 Michel Ziekman at the Rabobank office at HTC 9 on Campus is the only Rabobank loan executive who can lend you money. Naturally, he's very popular, with 120 startups as clients.
Now, when it comes to raising capital, no one just casually hands out cash to startups. BUT Michel says the process at Rabobank is faster and far less painful than you might expect. And repayment terms are designed to be reasonable for startups.
Let's say you've come through one of the venture builders on Campus – HighTechXL or LUMO Labs – reached all the milestones and completed the program but you still have no customers, revenue or even an MVP. And let's say you could really use 100,000 euros or whatever to get to the next phase of growth.
How long does the Rabobank process take from the time you start the loan process?
The answer is two months max, Michel said. You have to negotiate initial in-person meetings with him, then pitch the bank loan committee just as you would to investors. The day after the pitch, you'll know if you get the money, and, if your startup qualifies, the money is in your account within two weeks.
The best news – the loan is a loan and doesn't dilute your equity stake.
(See the end of the post for Rabo Innovation Loan details.)
Michel also helps startups and scale-ups with client onboarding, networking and financing.
He calculates he's done more than 70 loans in the region since 2018, with a goal of 20 deals per year. The Rabobank innovation program works in partnership with economic development agencies such as BOM, Brabant Startup Funds and R&D institutions such as TNO. "And yeah, we try to reach the next step for startups. It's very important because we are the only big bank in the Netherlands that does this in the early stage and takes no equity," Michel said.
Of course, Rabobank is a bank, not a charity. The purpose of the early stage loan program is to start relationships with future clients. Rabobank loan officers analyze the tech, the team and business model, Michel said. "What's in it for Rabobank? When they scale up, what can we earn in the future?"
Michel relies on guidance from experts at BOM, Brainport Development and other economic development agencies: "We're wrong sometimes. That's part of the game. But most (loans) go fairly well."
The only marketing for the loans is word-of-mouth and through The Gate at Technical University of Eindhoven. But since he's in the startup business, Michel also has a direct connection to the R&D institutions spinning them out.
One of the startups he's worked with is HighTechXL portfolio company Carbyon, which is in HTC 27. Carbyon came to Michel fairly early on because founder Hans de Neve is a former TNO executive and Rabobank has a long relationship with the Dutch research and development center.
In fact, Michel is the person who came up with the idea of lending to startups. When he started 15 years ago, his colleagues at Rabobank thought he was crazy, he says. Now, they see he's built a good business.
"The best compliment for me is when (clients) say, "you are not a banker."
The details:
The loan has a term of seven years with a fixed annual interest rate of 10 percent (monthly payment) and consists of two inseparable loans, divided into two equal parts:
A loan that is interest-only for the first two years and is then repaid at 20 percent per year.
A loan that is interest-only during the entire seven-year period and must be paid off as a lump sum at the end of the term.
Rabobank has several innovation offices, including at High Tech Campus, TU/e and Brainport Industries Campus. Now, the catch … only Michel makes loans. The other Rabobank colleagues only do consulting.
Michel has been in his current location on HTCE for seven months. He has a walk-in day on Wednesdays. You can also make appointments by calling. "My name is Michel Ziekman … there's only one in the world."
You can reach him at (06) 25 51 20 15 or by email: [email protected]
AI is eating the world
Yesterday's big AI event, "How Will Generative AI Impact Your Business?", at High Tech Campus Eindhoven had us thinking about Marc Andreessen's quote that "Software is eating the world." True, but it's AI software that everyone has been talking about for the past few weeks. So, this event was well timed for maximum interest, filling the HTCE Conference Center auditorium with more than 250 attendees.
Paul van Son, innovation manager at the AI Innovation Center on Campus, opened with a blunt prediction – "Generative AI will bring AI into everyone's lives," with a massive impact on everything we do.
Three presentations from three competitors, ranging from global giant Microsoft to Resleeve, a startup based in the AI Innovation Center echoed that prediction. All three agreed that, with Generative AI, we've reached an epochal moment, not just for tech, but for society.
A new AI Age when everyone can convert natural language and text to code, instantly create new fashions and make customer experiences seamless.
The three presentations addressed:
Customer service
Software development
Product design
Santa Clara, Calif.-based ServiceNow Vice President Heath Ramsey gave the talk on customer service, starting by saying, "Having been in the industry for over 25 years, generative AI to me is probably the biggest transformational event in enterprise software in my entire career."
ServiceNow's workflow automation software is one of the most widely used platforms in the world, with the company's shares recently trading for more than $435 per share on the New York Stock Exchange.
AI will increasingly efficiently organize data across verticals, resulting in what Ramsey called the "summarization" of information, making workers at all levels more efficient and optimizing the customer experience. AI will allow even the employees on the lowest levels of the org chart to do more advanced work in coordination with the rest of the team.
Microsoft's presentation on software development by Maurice Jutte and Hicham Zmarrou was very technical but pointed out there are lots of AI models. Using the most advanced doesn't always make sense since it uses the most power and memory. Zmarrou demonstrated Microsoft Azure's most sophisticated features such as instantly translating code from one programming language to another – from Java Script to Python, for example.
We found the most compelling to be the talk on product design by Rogier Warnawa, founder of Resleeve, on product design. Warnawa demonstrated how his four-year-old startup can take, for example, Gucci bags and use AI to create new designs that still adhere to the Gucci design approach, fitting seamlessly into the product line.
"Designers take days. Resleeve takes seconds. It really made me ask, 'What is creativity?" Warnawa said.
We'll have a more detailed AI post from the AI event and other sources.
Draper deadline
Draper's Silicon Spring Pitch Prize deadline to apply is 23 March, just around the corner. In partnership with LUMO Labs, Draper is inviting software and smart hardware startups to apply to win the coveted Golden Ticket to Draper University's Hero Training Program in Silicon Valley (San Mateo, Calif.) this summer.
What's in it for you? Draper University Hero Training from 22 May to 23 June.
This five-week entrepreneurship program includes eight modules, numerous speaker sessions, workshops and team activities. The package includes flight costs, on-campus accommodation and co-working space in downtown San Mateo, California, USA
A number of other Eindhoven-based startups have made the trip to Draper, including Aircision and FruitPunch AI. You can read what it's like to pitch in the High Tech Campus Conference Center here.
Send your pitch decks to [email protected] by March 23rd and read all the details of the program here.
Co-CEO of Dispatches Europe. A former military reporter, I'm a serial expat who has lived in France, Turkey, Germany and the Netherlands.